Triangulum: re-imagining South Africa's future through fiction
3 min read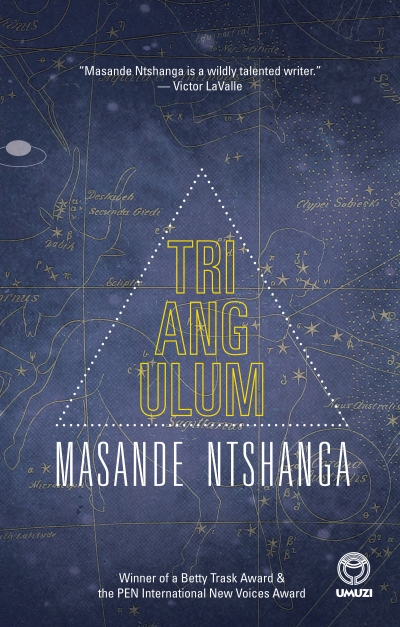 Nowadays many South Africans prefer reading about the Guptas, political commentary and where South Africa is going, instead of reading fiction. However, it is not often that fiction resonates with the real life experiences of an audience like Masande Ntshanga's book Triangulum does. "People usually associate fiction with something made up," said Ntshanga at the launch of his novel Triangulum on the 4th of July at Wordfest 2019.
"My book is about what the past meant not only for the present but for the future. I wanted to explore what South Africa looked like during those times and what it could look in the future," says Ntshanga.
There are plenty of futuristic films available that predict what the future will look like, but how many novels have done that? And how many do that in a South African context? "I want us to reimagine what our future could look like," says Nstanga.
The future Ntshanga writes of is not a future he would like to see. He says that we need to change things. He writes about two narratives that wrestle with one another. He says: "On the one hand it is believing in mankind's progression in technology and on the other hand it is believing that we took the wrong path since the industrial revolution."
Ntshanga's intention with this work was to write a novel on the homeland system. He explains that his characters arrive via their voice first and their history and sense of voice are the first things he considers when creating characters. "I knew I wanted my main character to be a post-apartheid millennial. I wanted her to be this bridge between the apartheid regime in the same way her parents' history was influenced by their parents' history," says Ntshanga. The novel also goes to some length to explore how we understand mental illness within an African context.
"Ntshanga explains that he prefers to be comfortable with places before writing about them. He spent 10 years in Cape Town and five years in Johannesburg before writing his first novel. "I want to be able to recall a sense of what it's like to be there."
It appears that Ntshanga becomes one with the words when he so intimately reads from the pages of his book. "There is a lot of truth in your fiction," commented a lady from the audience.
"It's a great book. It's set between two different moments in time, pre- and post 2000s playing with the idea of the millennium and the coming apocalypse. It's about imagining forms of exploitation under the post apartheid era. These are both real conditions. It's got a clever style," says Sheila Giffen, a PhD student from Canada.
"I want my readers to actually look at the two things I presented and hopefully come up with a third solution. I did plan for the book to be collaborative."
"It raised questions for me as I was writing it. I hope those questions resonate with readers too."
Below, Ntshanga reads from a few of the book's chapters:
You can buy Masande Ntshanga's Triangulum here: https://www.penguinrandomhouse.co.za/book/triangulum/9781415210062