REVIEW: Khusta Jack, To Survive and Succeed: from farm boy to businessman
3 min read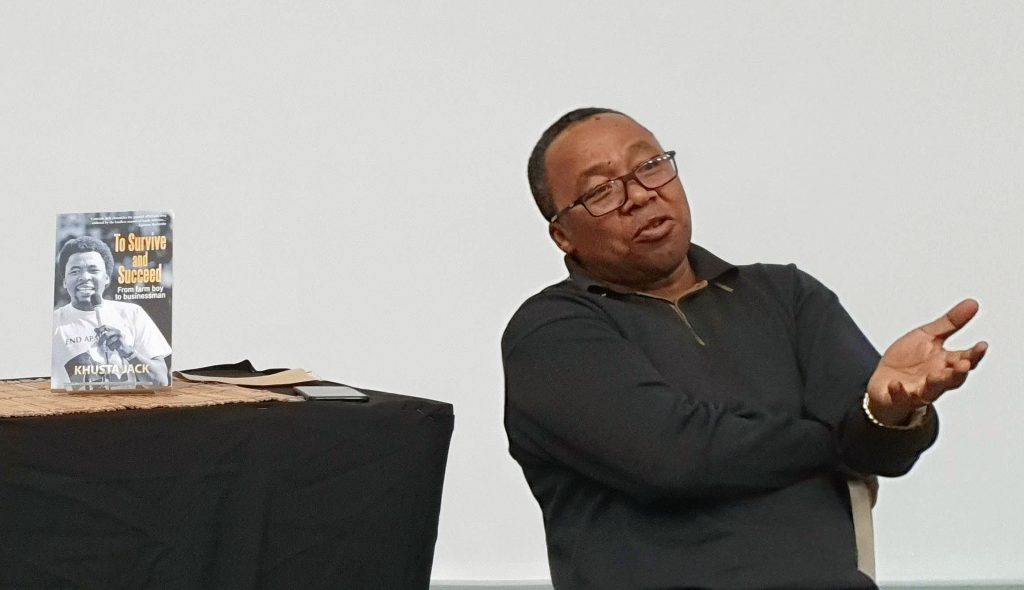 Mkhuseli Khusta Jack was born on a farm in the Eastern Cape in 1957, the son of a farm labourer and a domestic worker. When he was very young the family was evicted from his birthplace to a farm near Oyster Bay, and it is the memory of that move that opens the moving and encouraging story which he tells in this book: "I am six years old. It is the winter of 1963 and we are being evicted from the farm where I have lived all my life. We are being evicted – from the home I thought was ours." In the last chapter of this exemplary autobiography Khutsa Jack returns to that memory.
To the title of the book one might add the word "struggle" for Khusta Jack is a struggle hero, from his involvement in and leadership of protests and demonstrations, to his commitment to important organisations like the South African Student Movement, the Black Consciousness Movement, and the Student Christian Movement. He was the leader of the Council of South African Students in Port Elizabeth and active in the UDF.
At every stage his political activity was met with the wrath and violence of the apartheid state: harassment, arrest, detention and torture. Nonetheless while we are looking back on this story from a quarter-century into the post-apartheid state, Khusta Jack's activity was always carried forward with a sense of justice and the eventual success of his cause.
A drug peddler with whom Khusta Jack shared a cell in the Bethelsdorp police station in 1986 "did not see the wisdom of placing his life on the line for something that was not tangible". When that intangible goal was achieved, Khusta Jack "did not want to become a career politician"; looking back on a youth most of which "had been dedicated to achieving the ultimate goal of freedom" he turned his talents from struggle and survival to success.\
Khusta Jack writes with engaging frankness about the details of all stages of his life. The account of his marriage to Kari Evans, a bishop's daughter, gives us an insight into the excitement of combining African wedding rituals with "white culture". Significantly and happily, the couple were married in St Stephen's Church where the bridegroom had taken part in his "first major and successful political confrontation with the old-order police."
After some years in Brighton where Khusta Jack studied economics and development studies at the University of Sussex, the family returned to South Africa. Khusta took a post with Volkswagen but he always wanted to be "his own boss" and after some difficulties and disappointments, he is now a successful businessman.

Khusta Jack acknowledges that struggle experience may have scarred him psychologically, but the deepest scars were left by that dispossession at six years old: "evicted and confused". So in the final chapter of To Survive and Succeed, Khusta Jack makes his last appeal to "our wonderful Constitution" which he had done so much to implement, when he and his family submit a land claim: "we want the land back and we intend to farm it".
Having warned that the ANC would be reduced to "a social club, a place where criminals brawled and feasted on the spoils" Khusta withdrew his sympathy from the ruling party under the regime of Zuma but he expresses some hope for the Ramaposa presidency, despite it carrying "the baggage of a dysfunctional ANC" and having "to make major compromises with the crooks in the party".
But this book is more than a political autobiography. Khusta Jack tells a humane and human story which all South Africans can learn from.