To Survive and Succeed: From Farm Boy to Businessman
2 min read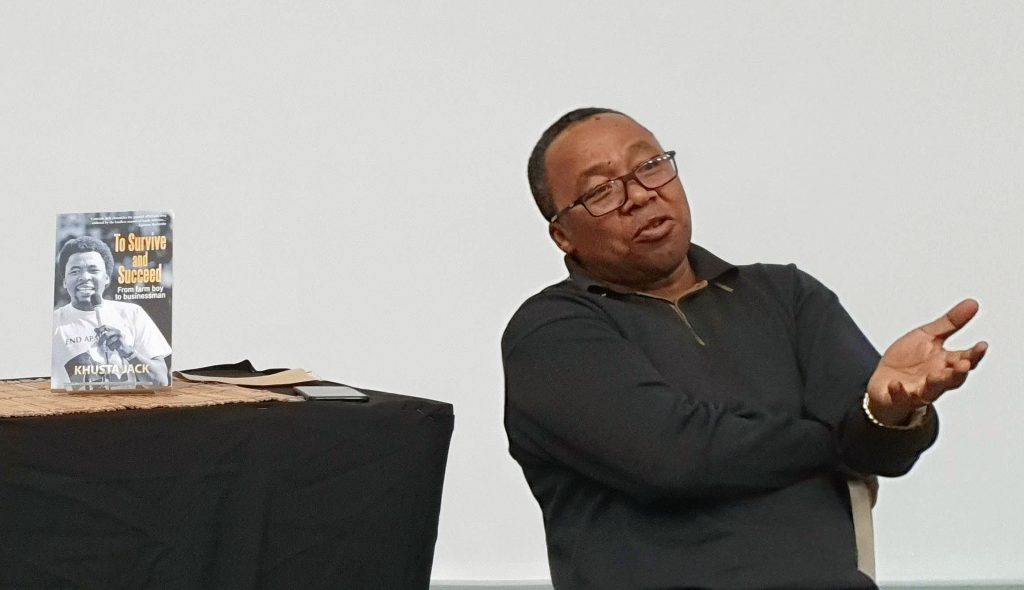 Makhanda got its own launch of Khusta Jack's book To Survive and Succeed: From Farm Boy to Businessman, on Tuesday afternoon at Wordfest.
Born Mkhuseli Jack in the late 1950s in Port Elizabeth, "Khusta" documents the challenges of his early life as apartheid's claws first reached his childhood home and saw to the eviction of the Jack family from the white farm on which they resided at the time. Khusta would soon understand the government's separatist policies from his struggles to attend school in an era of geographical restrictions and detentions for the violations thereof.
He was arrested several times during the course of his already-compromised schooling for his activism, but would finally matriculate at the age of 24 from Cowan High School. Khusta had started his schooling late, at the age of ten, from problems with asthma while younger.
At 24, Khusta had already gone through several menial jobs, foremost of these farm and construction work, where he received further exposure to harsh white rule. He became a vocal narrator of the abuses of white power, and used his experiences from the various jobs as the ignition of his desire to challenge apartheid. He was however detained on numerous occasions by the state in the 1970s and 80s.
Khusta's fortunes began to change in 1990 in the first years of political transition, when he received an opportunity to go study at the University of Sussex in England.
To Survive and Succeed, is a comprehensive history of Khusta's mainly political life and his progress to business in his later years. He shared with the audience that this account particularly acknowledges many struggle figures that are minimally spoken off, it at all.
Khusta stressed that his book is of a friendly tone with which he wishes to target young readers who will benefit from an expanded narration of South Africa's struggle. Additionally, he wishes to show young people that early-life obstacles can be conquered.
Khusta existed active political participation with the election of Jacob Zuma at the African National Congress' 52nd elective conference in Polokwane, in 2007. He remains in business, and has had at least five book launches of this text across the country.