Mary Pocock: the original live streamer
4 min read
It's the year 1925. Mary Agard Pockock, 39, accompanies Dorothea Bleek, a 52-year-old German-South African anthropologist, on an 'unadventurous' six-month trek through the wild of the Angolan bush.
The objective? For Bleek to make contact with the elusive remnants of the bushmen in the remote parts of the country.
While Bleek would go on to publish a dictionary of bushmen languages a few years later, it's Pocock's impressive ability to accurately and engrossingly bring the duo's journey to life that brings us here today – and the intro of the first article she wrote of the journey, published in The Cape Times, exposes her tendency for idiosyncrasies:
A trek across Angola! It sounds a venturesome undertaking for two unprotected females, yet it is surprising how easily it can be accomplished and that without a single event worth the name of adventure – new experiences we had in abundance, but of adventures, never one.
Of course, after reading the book that's easily contested.
For the journey, Pocock's primary role was chief cook and organiser of meals. She had to bake fresh bread daily and ensure the two had enough food by bartering for supplies with the people she met on the way. Even though her botanist interests were often subordinated to her duties, she was able to keep a detailed record of what they experienced, scribbling avid and accurate notes in five note books that she would send via post to her family in Cape Town.
If Instagram had been a feature back then, Pocock's eye for detail would instantly entertain and educate many.
Instead, nearly 100 years later, Tony Dold — curator of the Selmar Schonland Herbarium in Makhanda and lecturer and research fellow in Rhodes University's botany department — and assistant editor Jean Kelly have managed to successfully patch together Pocock's descriptive accounts, and have published them for the world to see in their wonderfully titled book, Bushmen, Botany and Baking Bread.
Speaking at Wordfest 2019, Kelly detailed the many challenges she and Dold experienced in bringing the book to life, the greatest of which was working out the route the two women had travelled on as many names in Angola changed since independence.
Accompanied by an entourage of porters (seen in the photograph above), the long trek included an 18-day boat trip up the Zambezi.
There were also more technical challenges for the authors, who had to transcribe inaccurate type script and digitise photographs preserved on the famously stable glass-plate slides. There are also some missing facts: while we know Bleek had already travelled all over southern Africa in the search of bushmen to record their history, culture, traditions and language, Dold and Kelly have not been able to find out how the two came to join forces – or how they were able to finance the expedition.
A keen botanist who would eventually become world renowned for her work, Pocock's diaries record minute details of plants, animals, insects and terrains so vivid that, while reading, one easily accompanies her on the journey. She named and described every person the duo met, and the book is littered with digitised drawings, paintings and photographs by Pocock depicting specimen, people and landscapes.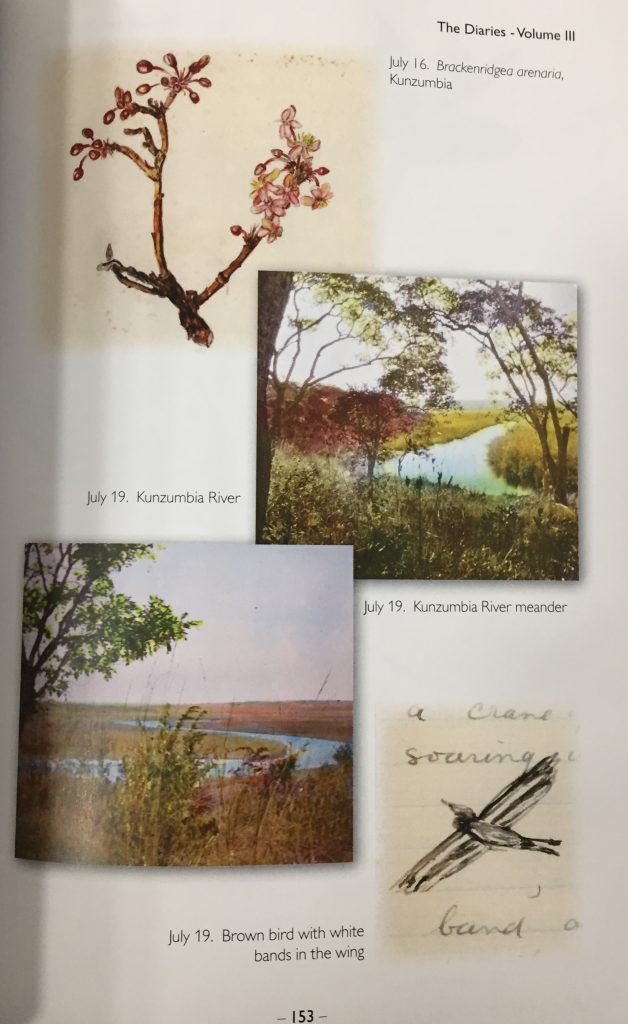 Her botanical drawings were so efficiently accurate they were used by others to identify new species, indicating her skill and accuracy as a technical artist.
Pocock's use of the English language is enjoyable and adds a level of attitude and personality to a story otherwise untold; a clear running commentary of her travels intended to inform and entertain her family back home.
A discription of a simple tree frog says it all:
"I'm writing with a tiny green frog, half an inch long, sitting on my hand – there he goes to my shoulder. The toes are slightly knobbed and he has a white line running from his nose right down each side, and lovely gold and black eyes. I think they are "tree" frogs, only they live on the grasses! Now he is off on to my shoulder, now to the side of the boat. They are perfect little jewels – translucent jade green."
The book, complete with 50 pages of appendices from an obituary to articles written for the Oudtshoorn Koerant and The Cape Times that amplify what Pocock wrote in her diaries, weaves together many strands of interests for a general reader – and will not disappoint.
Bushmen, Botany and Baking Bread is available at Clarke's Bookshop in Cape Town. http://www.clarkesbooks.co.za/
This article has been written in English. Click to read a version of it in isiXhosa.